Rubberman Accepts the Nobel Prize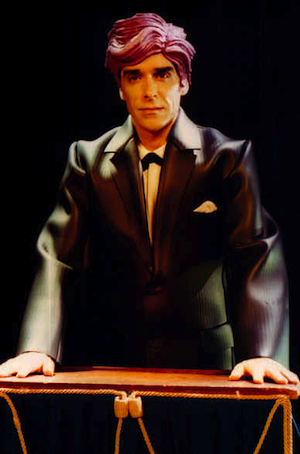 Rubberman Accepts the Noble Prize
A superhero who speaks only the language of dance makes an outrageous, graceful and rambunctious physical acceptance speech.
"Part poetic manifesto, part movement piece, Rubberman also does karate in comic strip colours, KAPOW! style text harking back to the days of cheesy Batman stoushes. Warped screen effects and lightning zooms show that the Physical TV Company is easing with maturity into film, doing much more with it than merely recording performance. They also seem to be the only bunch attempting this sort of thing in Australia, and doing it well."
Rubberman made his first film festival outing at IMZ dance screen in Monte Carlo and has been bouncing around the globe ever since.
screened at 27 festivals and counting
*Mill Valley Film Festival
*Cable TV Broadcast in USA
*Thessalonika Film Festival, Athens
Key Credits
Director: Karen Pearlman
Writers: Karen Pearlman and Richard James Allen
Choreographer: Richard James Allen
Cinematographer: Tim Spicer
Production Designer: Kate E. Wills
Costume Designer: Justine Seymour
Editor/Digital Effects: Andy Canny
Sound Designer/Composer: Serge Stanley