Entanglement Theory:
Playing with Mixed Realities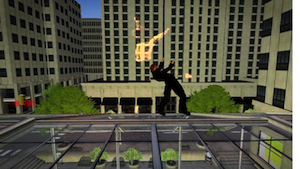 By Karen Pearlman and Richard James Allen
an essay in:
Performance and Temporalisation: Time Happens
a  Palgrave MacMillan Performance and Philosophy Series publication
CHAPTER 16
Entanglement Theory
Playing with Mixed Realities
KAREN PEARLMAN
RICHARD JAMES ALLEN
1. Introduction
In the period from 2006-2009 a series of professional development opportunities were created by Australia's federal arts funding agency, the Australia Council, and its national film school, the AFTRS, to give artists a chance to develop skills, ideas and collaborative teams in cross platform digital and interactive media (Fingleton, Dena, Wilson).  The facilitator and designer of the program, known as LAMP (Laboratory for Advanced Media Practice), Gary Hayes, had a background which included working with dancers and choreographers in Britain, and a particular interest and expertise in a digital virtual world platform called Second Life.  Through participation in LAMP, the authors of this paper developed a collaboration with Hayes on the innovative design and authorship of a Second Life virtual world installation based on the storyworld of our film, book, and dance-theatre work Thursday's Fictions (see Allen, Hayes, Pearlman, Reincarnating Thursday's Fictions).  A second collaboration, facilitated by a grant of resources from the Australian dance research organisation Critical Path, generated a series of philosophical questions about time, embodiment, perception and 'reality', and a short film called Entanglement Theory.  These philosophical questions and their relationship to the creative work are the subject of this paper.